Set Gmail as your default email client when clicking on email addresses online.
Ensures that email address links open a "Compose Email" from your Gmail email
Supports multiple Gmail accounts including Google Suite accounts
Works on any online webpage
Optional to compose your Email in a new window or as a Gmail tab
Optional to expand bcc and cc fields


Integrated into Gmail No extra software!

Your time is precious, so save it! No more copying and pasting email addresses in order to write an email in Gmail.
Fully Integrated With Your Chrome Browser
Mailto: Set Default Email to Gmail by cloudHQ installs within seconds from the Chrome webstore. Once installed, you'll see an envelope icon in the top right-hand corner of your Chrome browser. There, you'll be able to manage the settings for your new email compositions that open when you click online email addresses.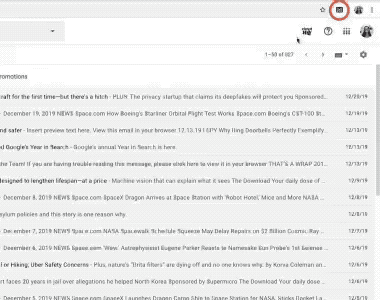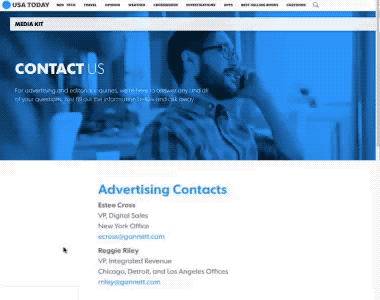 Sets Your Gmail As Default Email in Chrome
It can be so annoying clicking on email address links online. Sometimes, nothing happens! Other times, you have to wait for your iCloud Mail app or Outlook app to load up—when you didn't even want them to! But now, you can make sure that clicking online email links will always work, and that your Gmail is the ONLY email client that will be involved. You'll even be able to choose which Gmail account you want to use!
Supports Multiple Gmail Accounts, or G Suite Accounts
Do you have multiple Gmail accounts? Maybe you have a G Suite account for work and a private account for your personal life. You can set any of these as your default email in Chrome so that when you click a link, that specific email account starts composing a new message—plus, you can switch default emails whenever you like.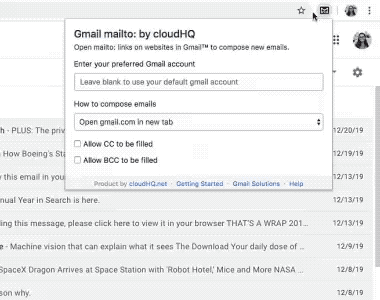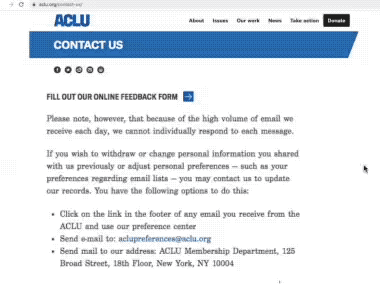 Works on Any Webpage
Even if an email link is in Javascript, you'll still be able to click it and have a new "Compose Email" box open from your Gmail account!
Optional: Open in a New Window or in a Gmail Tab
Once you click an email link, your "Compose Email" box will open either as a separate window in Chrome, or as a tab in the window you currently have open. It's your choice! If you choose to open a new window, your "compose email" box will open in a new window. And if your preferred Gmail is already open, a "New Message" box opens in that tab!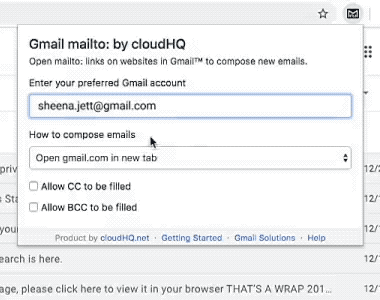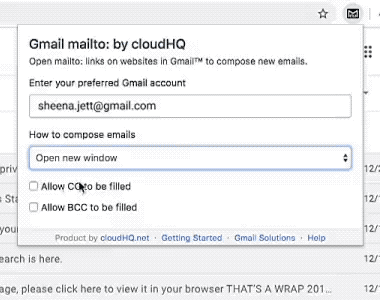 Option to Expand BCC and CC Fields
Want to make sure that you can cc or bcc people when you send your emails? Just click the envelope icon in the top right hand corner of your screen. You'll see an option to allow for expansion of your email's cc and bcc fields. Full functionality!
Near Universal 5-Star Ratings
Mailto: Set Default Email to Gmail by cloudHQ has almost universal 5-star reviews from users who have downloaded it in Chrome.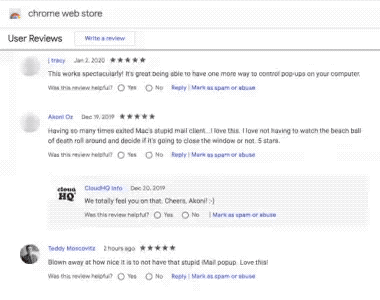 ---
Who Uses Mailto: Set Default Email to Gmail by cloudHQ?
Large Organizations that use G Suite
If you represent a large organization using G Suite, you'll want to make sure that your employees conduct all work communication from their work emails, and not their private email accounts. Email address links online often reroute to personal email accounts (iCloud, Outlook), and this can lead to slip-ups in business policy. Thankfully, with Mailto: Set Default Email to Gmail by cloudHQ, your employees can set their work email as the default email to open all email links, and you won't have to worry about accidental slip-ups.


Gmail Users Who Only Want to Use Gmail
Tired of wasting time dealing with iCloud or Outlook when you never open them anyway? We were too! Leave that stress behind: you'll automatically send from your Gmail account from now on.
Gmail Users Who Wonder Why Clicking Email Links Online Never Works!
Plenty of email addresses online just DON'T WORK. But with this extension, that's never a problem. All Mailto: links automatically open from your Gmail account, even if the link would normally not open at all!